About Evans Farms
The History of Evans Farms as told by Dr. Bill Evans…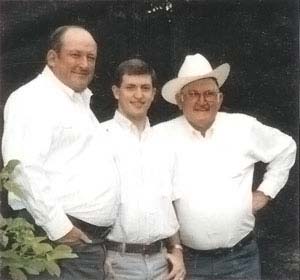 Generations of my family have lived on and around this land between Proctor and Gustine. My paternal grandfather, R.W. Evans, fought in the Pacific Rim with my great-grandfather and came home to hard times. As with many farmers and ranchers, they had to adapt and occasionally supplement their income with outside work. At that time, the land was used to raise cattle and pigs on pasture with large chicken houses for eggs, which were often purchased by my maternal grandfather D. Rockwell in Weatherford. To sustain the ranch my grandfather moved west to Odessa to roughneck while my grandmother managed a sewing factory in Dublin. Eventually, R.W. returned and helped pass the farm to the next generation--my parents.
As a young couple, my parents Billy Ray and Doylene raised peanuts and operated a peanut drying station on the family land. When peanuts began moving to West Texas, my grandfather and my dad began to ranch commercial cattle which then expanded to add a Holstein dairy. It is the same dairy land that now provides our rocky traps for outstanding bull development and longevity.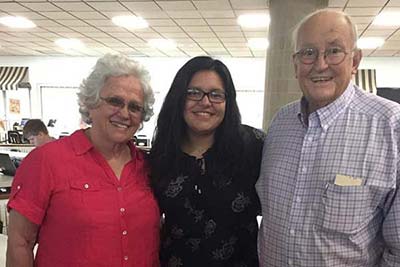 After finishing my orthopedic medicine training in Atlanta, Georgia, my wife Nanette says Texas called me home and we made the move to Stephenville. We have been blessed our growing radiology and orthopedic practices in Stephenville, yet I always wanted to be in the Angus business after getting a taste from commercial cattle ranching. My wife has been amazing in her tolerance for my "expensive hobby" and still willingly allows me to spend dawn-to-dusk out there with the cattle. I think she understood that I have the sickness of a cattle breeder. We finally became the registered Black Angus ranch you see today inthe early 2000s. After intense study and more than a few obstacles, Evans Farms has developed a competitive Black Angus herd with genetics designed for both commercial and registered cattlemen.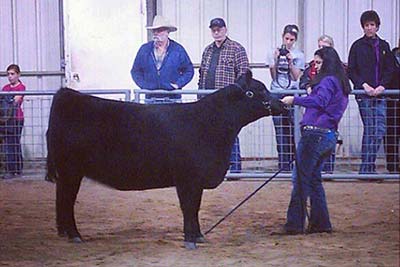 As we have to think about and prepare the next generation, we have begun to add some competitive show stock to our lineup. This happened thanks to our daughter and niece loving livestock shows. Ali's and Angie's process of raising and bonding with their animals have given them lessons and responsibility that only I wish I could teach. While our junior showmen have now aged out, we strive to help others gain the blue ribbons and belt buckles we were blessed to achieve.
The farm and ranch work ethic and Christian family values passed down should keep the EF compass well directed for years to come. We thank the Lord for always providing, stand behind our cattle, and appreciate your friendship as we continue our journey!"